Why Education Website?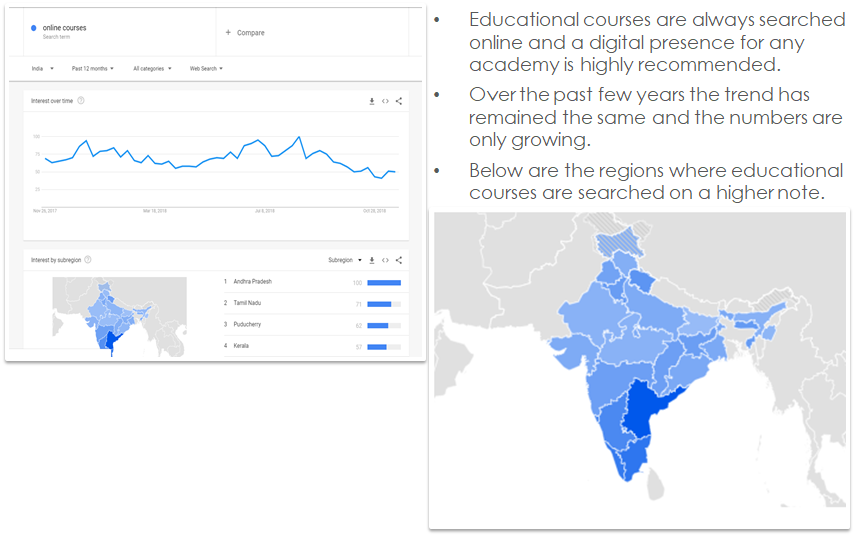 SOURCE: https://trends.google.com/trends/explore?geo=IN&q=online%20courses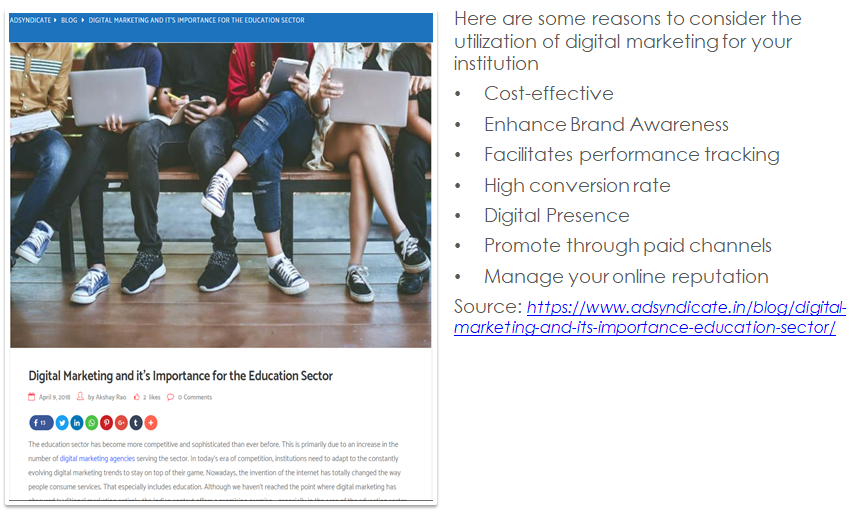 SOURCE: https://www.adsyndicate.in/blog/digital-marketing-and-its-importance-education-sector/
Education Product
Our Boost 360 product strategy has helped us cater
to the following categories:
–Hotels
–Manufacturing
–Doctors
–Education
Boost Education – Our latest category-specific product is specifically designed for Coaching Institutes
Boost Education has all the features for Boost Lite and a handful of additional features specific to their category of business, a few key ones include:
- Courses Offered
- Upcoming Batches
- Our Toppers
BOOST EDUCATION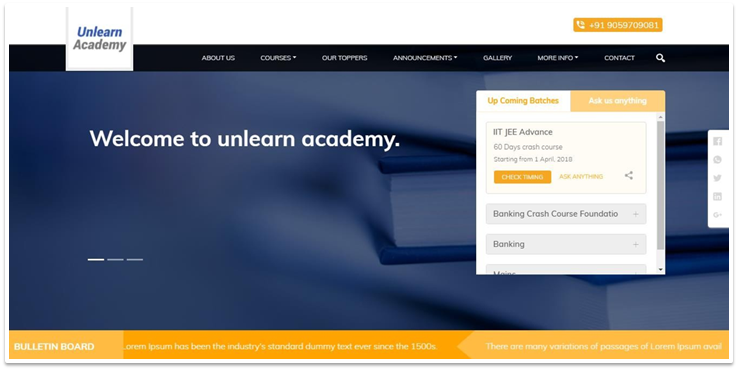 Different look and feel
Standard color scheme
TOP 4 KEY FEATURES
Courses Offered:
Coaching Institutes can display their most popular courses, which most of the times happen to be their USP
They can provide a brief description of the course, fees, admission related information, etc
Upcoming Batches:
Helps institutes market their courses and batch availability to students before its release
They can display the duration and schedule of the courses to
ensure they have a full house
Our Faculty:
Visibility of a dedicated team of experts with ample experience is critical to foster student confidence and not to mention centers credibility.
Our Toppers:
Helps build trust in minds of prospective students and can influence their decision to join the institute
Many institutes take pride in showcasing their achiever's page
WHAT ELSE?
Apart from the new theme with a different look and feel for education institutes and the top 3 key features, namely – Courses Offered, Upcoming Batches, Our Toppers; the other additional features are:
Bulletin Board
Banner Slider
Action Bar
Statistics
Find Your Course
About Us
–Our Story
–Why '<Institute Name>'?
–Our Faculty
–Industry News
Below are in the detailed feature list
HOME PAGE
The 'Home' page has all the critical information that any consumer would find important
HOME > BANNER SLIDER
The background image on the home page can be changed as per the education institutes requirement
They can add up to 3 images, which would automatically change every few seconds
They can also customize the text on these banner images
The Banner Slider images can be added by a merchant only through the Boost Management Portal > Customizations
HOME > ACTION BAR
The 'Action Bar' lets a consumer landing on the website do two things:
–See a snapshot of all 'Upcoming Batches' along with their course details
–Contact the merchant with a Business Enquiry through the tab 'Ask Us Anything'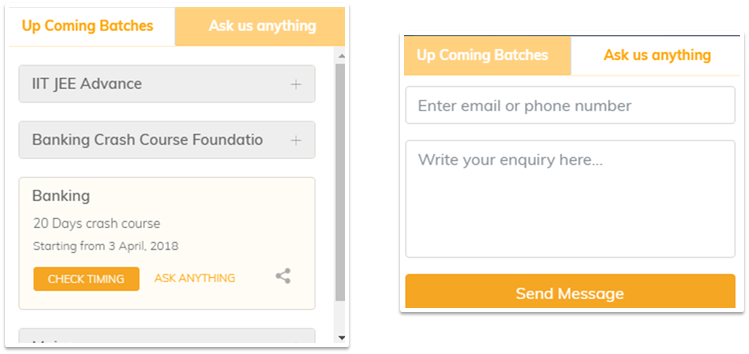 HOME > BULLETIN BOARD
Bulletin Board is an information slider which showcases the following:
–Names of 'Upcoming Batches' with a clickable link which redirects to the 'Courses' page for further information regarding the courses
–Title of 'Industry News' with a clickable link which redirects to the 'Announcements' page for viewing the entire article in the news

HOME > POPULAR COURSES
This section will let a consumer browse through the courses offered by the education institute
They can have a look at the course name and description
Clicking on 'View More' will redirect to 'Courses Offered' under the 'Courses' tab
HOME > OUR TOPPERS
This section will let a consumer look at the achievers from this institute
It helps build trust and credibility in the minds of a consumer when an institute showcases the top performers and rankers
Clicking on 'All Toppers' redirects to the 'Our Toppers' page
HOME > LATEST UPDATES / INDUSTRY NEWS
Latest Updates – Updates made by the merchant about their institute, offering, etc
Industry News – Merchant can share relevant articles from the web, posts from e-papers, etc related to education/results
Clicking on 'All Updates' or 'All Industry News' redirects to the 'Announcements' page
HOME > STATISTICS
Foundation Year – Showcase how many years old is the institute
No. of Students – How many students have studied at the Institute
Years of Faculty Experience – a Combined experience of professors teaching at the Institute
Clicking on 'Know Our Complete Journey' redirects to the 'About Us' page
HOME > FIND YOUR COURSE / NEED HELP
Find Your Course – Clicking on 'Browse Courses' redirects to the 'Courses Offered' page under the 'Courses' tab
Need Help – Clicking on 'Get in Touch' opens a 'Ask us Anything' pop-up which enables a consumer to send a business inquiry
ABOUT US
Our Story – The Business Description entered by the institute will be displayed in this section
Why '<Business Name>'
– The institute can describe their distinguished offering and why a student must join them
Our Faculty – Faculty experience and details of professors can be shared in this section
COURSES > COURSES OFFERED
This section is equivalent to the Product Catalog where an institute can showcase their currently offered courses
COURSES > COURSES OFFERED
Clicking on 'View More' for any course will showcase the fees, admission related information, course description and an option to send an inquiry
Clicking on 'View Our Upcoming Batches' redirects to 'Upcoming Batches' page under the 'Courses' tab
COURSES > UPCOMING BATCHES
Institutes can showcase the courses that are planned for the near future and are yet to begin.
Name of the course, duration, commencement date, and batch timings can be displayed
Clicking on 'Know More' will allow a consumer to send an inquiry to the institute
OUR FACULTY
This page showcases the faculties available at the institute.
This helps the students to gain trust with the institute.
Faculty can be updated with the image, a subject they teach.
OUR FACULTY > Read more
On click "Read More" you can see the profile of the faculty in detailed.
This page showcases the profile of a faculty and the experience of the faculty is shared in detail.
OUR TOPPERS
This page showcases the achievers from this institute
It helps build trust and credibility in the minds of a consumer when an institute showcases the top performers and rankers
Image, Name, Rank, Course Category, Program for any student can be shared
Testimonials by students can also be uploaded in the form of text or images
OUR TOPPERS > TESTIMONIALS
ANNOUNCEMENTS > LATEST UPDATES
These are the regular updates posted by the Institute on their Boost Education website
It is recommended that they post an update a minimum of three times a week
ANNOUNCEMENTS > INDUSTRY NEWS
The merchant can share relevant articles from the web, posts from e-papers, etc related to education/results
They must enter a title / short description and can hyperlink any article on the web
Clicking on the link redirects to the article on the web
GALLERY
Education institutes can upload unlimited images on their Boost Education website
Each image will be showcased with a white square frame around it
Clicking on an image will expand the image as a pop-up
MORE INFO
Institutes can add unlimited custom pages which will be added in this section
They can customize the page as they want by copy-pasting content from any word doc file
For example – Testimonials are added as a custom page by pasting it from a different source where it can be formatted
CONTACT
Business Address on the map along with an option to get directions
Send your questions or feedback – Business inquiries
Get in touch – Contact number, email, website and address
SEARCH COURSES / UPDATES
Search icon allows a consumer to enter a keyword and would display the relevant result from either Courses or Updates
This makes it easier for the consumer to find what they are looking for on the website
To know more: https://www.nowfloats.com/product/education-coaching?v=129