With 1.5 billion users, 1 billion of whom are active daily, it's more than likely your audience will be using WhatsApp on a regular basis. WhatsApp launched its Business app with the small business owner in mind where businesses can interact with customers easily by using tools to automate, sort, and quickly respond to messages.
But is it right for your business? We'll show you how it works and why you would benefit from signing up.
What features does WhatsApp Business have?
The WhatsApp Business app makes things easier for small and medium-sized businesses. It makes business information more readily available to customers and helps with sorting active chats. Plus, it has some auto-reply capabilities and enough response templates to handle your customer base.
Business Profile:

You can create a publicly-visible profile with information about your business, including email address, location, description, URL, hours, logo and more.

Labels:

You can add custom color-coded labels to active chats with customers to keep them organized.

Quick replies:

You can save frequently-used responses to send quickly by typing short commands starting with "/".
Getting started with WhatsApp Business
Note: If you already have WhatsApp Business installed on your phone, you can skip this section. Please keep in mind that WhatsApp Business app is different from WhatsApp Messenger and comes with additional features designed for businesses to connect with their customers more efficiently.
First, you need to download the WhatsApp Business app either from

Google Play

for Android, or

iTunes Store

for iPhones.

Unfortunately, you can't have both a WhatsApp (personal) account and a WhatsApp Business account associated with the same number. You can, however, migrate all your personal chats over to your new business account by choosing to move your current phone number to WhatsApp Business.

Once you've entered your business number, you'll be sent a verification code.

Now, set up your business name and fill out your profile details like your business address, business description, email address, and website.

Once you've signed up, you don't need to be tied to a smartphone to be able to message contacts. You can set up the desktop "WhatsApp Web" application and access your account via your desktop browser.
Connecting your Boost business website to WhatsApp Business (via Boost mobile apps)
Note: To connect WhatsApp to your business site via Boost Web, click here.

1. Android users can tap the three short lines on the top left corner of the screen to trigger the menu whereas iPhone users can tap the 'more' icon on the bottom right corner of the screen to do the same.
2. After opening the menu panel, tap on the "Content" menu item to go to the 'Content' screen.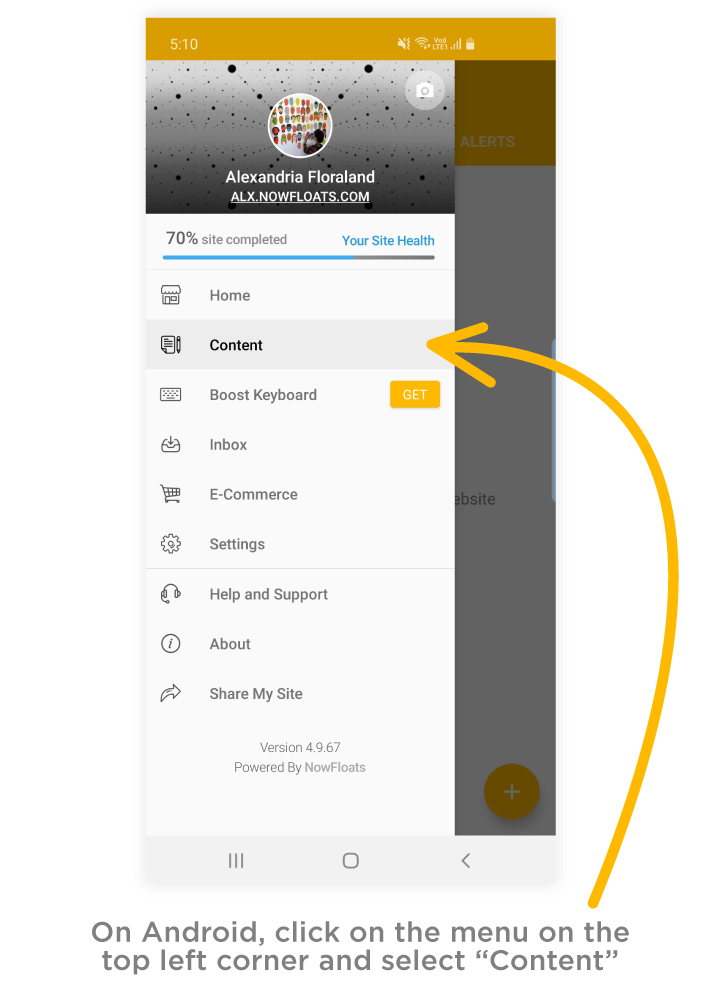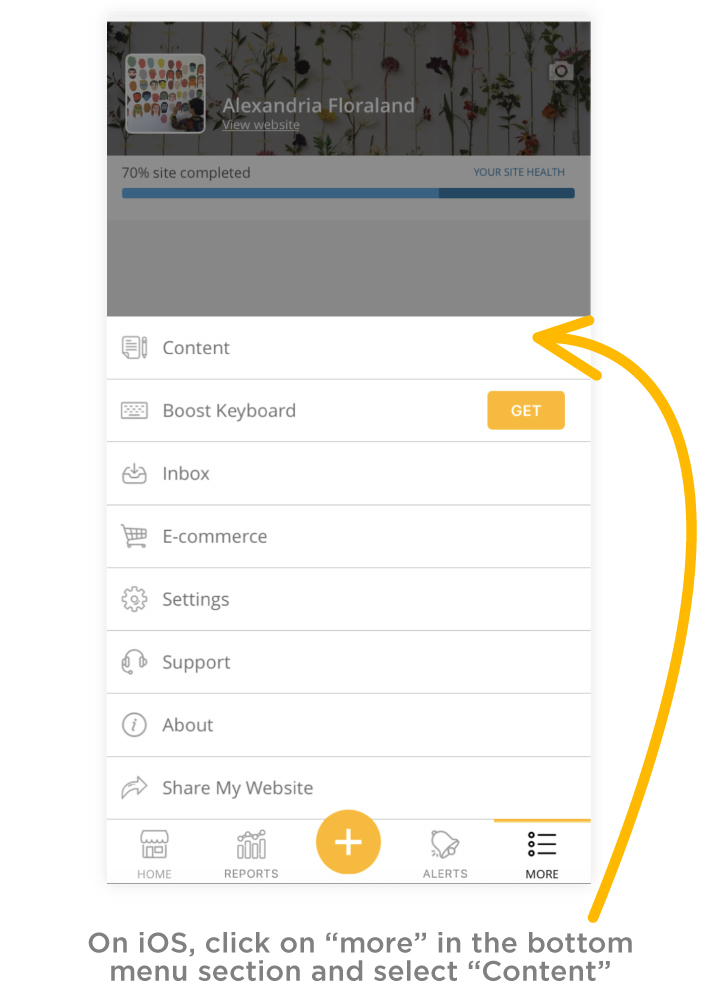 2. On the 'Content' screen, tap on the sub-menu item 'Content Sharing'.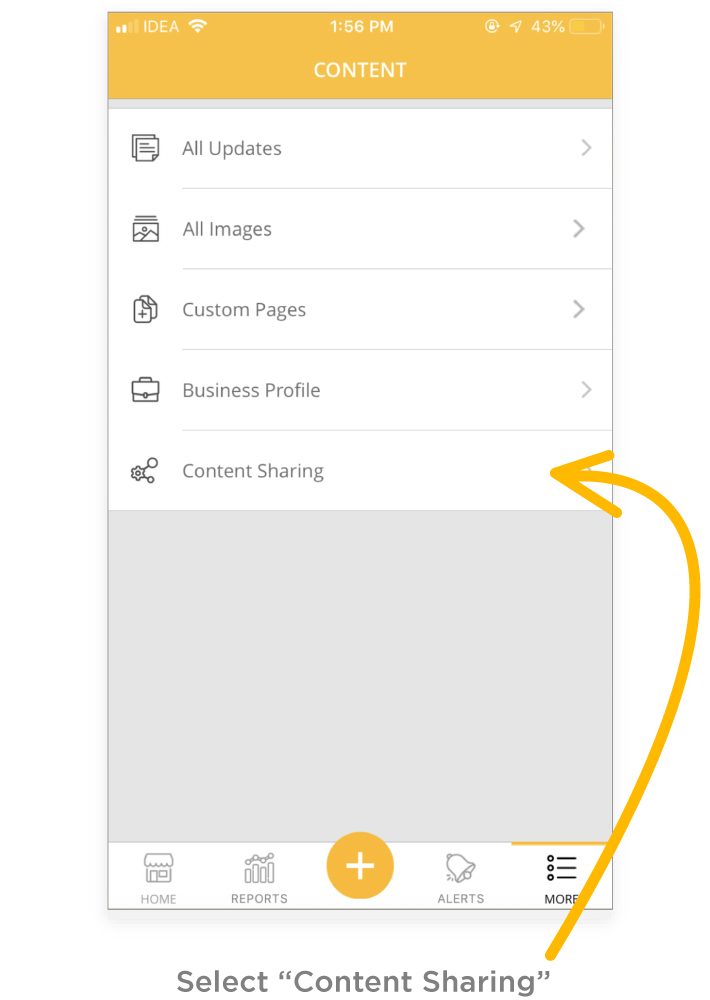 3. Look for "WhatsApp Business" and activate it by selecting the checkbox.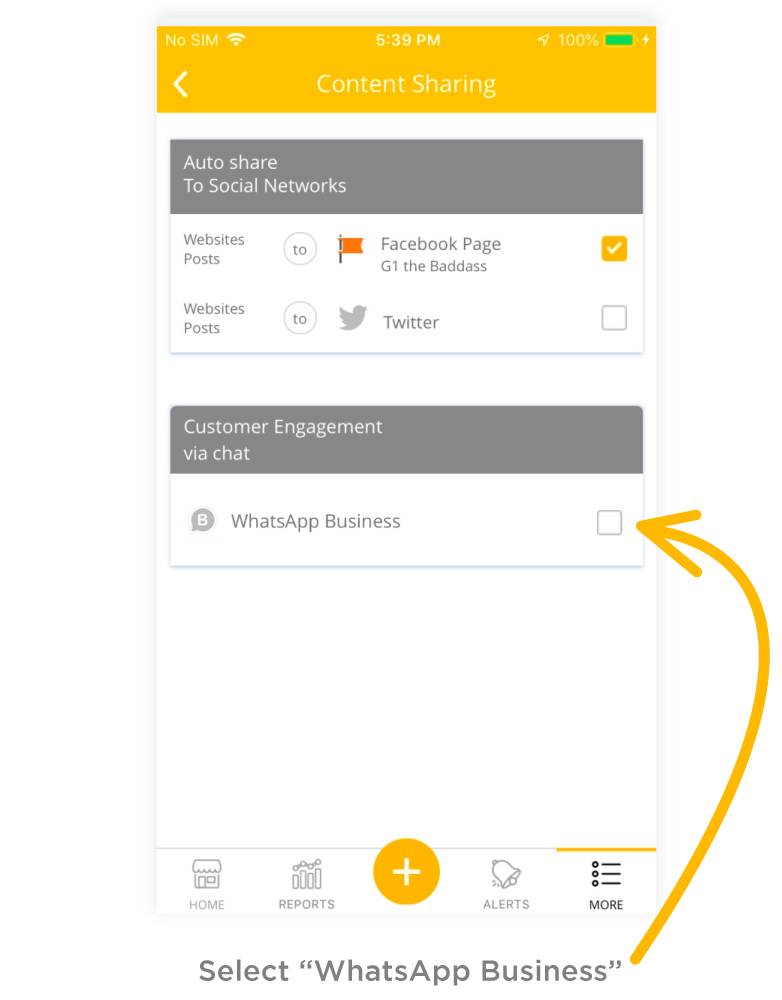 4. Simply enter the mobile number registered with your WhatsApp Business account and tap on "Save/Add". (Ignore the country code, it will take your country's code as default).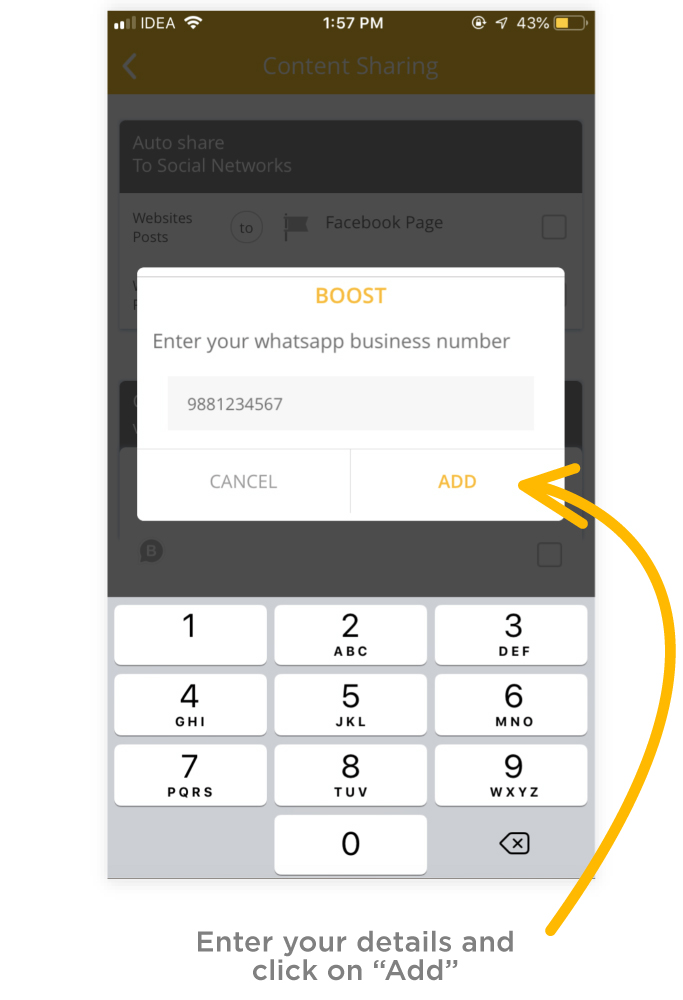 5. After tapping on "Save/Add", a "Chat with us" floating button will start appearing on your Boost mobile website.
How it helps you connect with customers (on mobile site)
When a customer taps on the "Chat with us" floating button on the right edge of the screen, it triggers a quick inquiry box.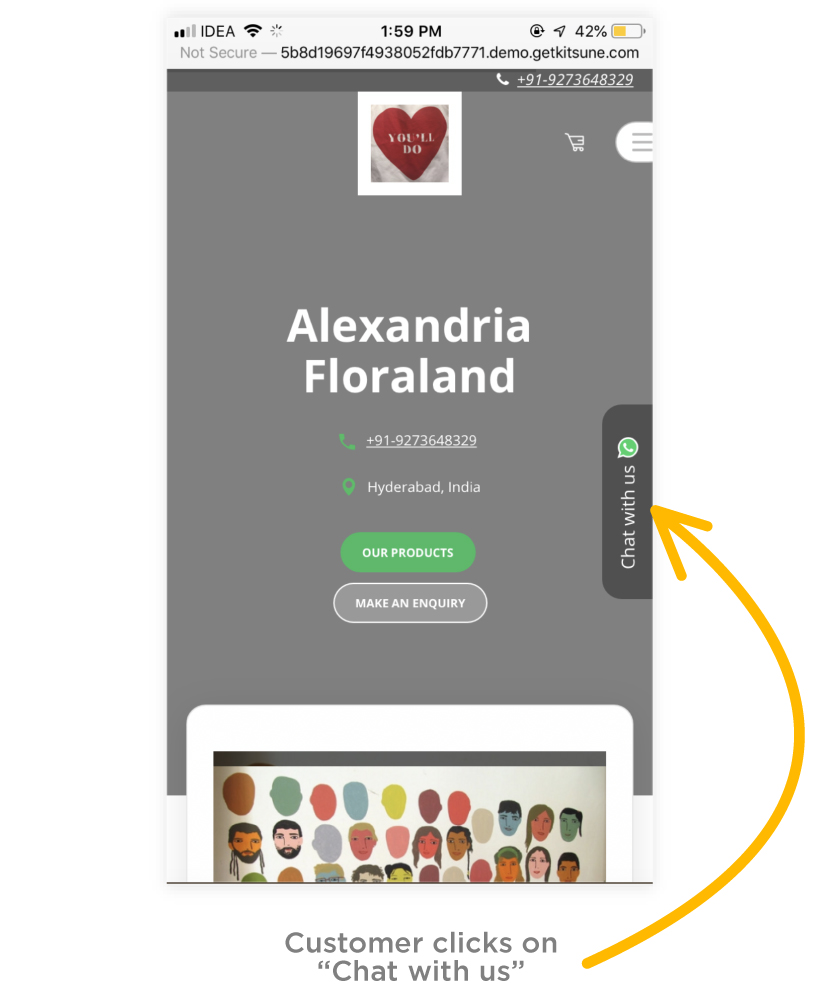 2. Customers can enter their message or inquiry in the pop-up along with their mobile number or email ID and tap on 'Start Chatting' to begin a conversation.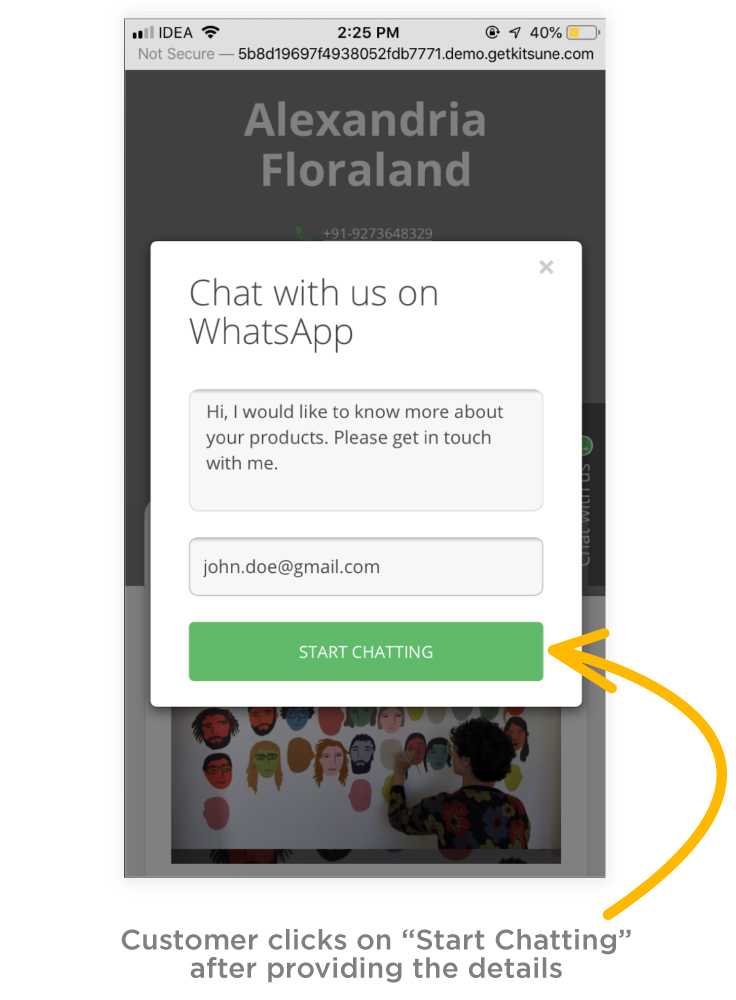 3. Customers are then redirected to WhatsApp Messenger on their mobile phones where they can start chatting right away.
Note: To download Boost app on Android phone click here and for iOS app click here.